What is KLP Beauty?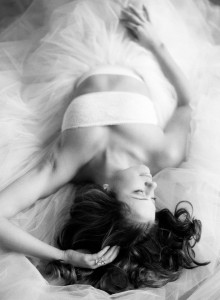 boudoir: a woman's bedroom or private room for dressing or resting
boudoir photography: An intimate photo of a man or woman, suggestivily covered but not fully nude, meant to tease the senses.
At Kristin La Voie Photography, we believe in photographing women in a romantic, natural, and beautiful way.
This does not mean costume lingerie or raunchy and overly provocative poses.
Every woman IS beautiful, and should be captured in a manner that represents her inner as well as outer beauty.
So does that mean wearing a bra and panties, jeans and a white t-shirt, or a skirt and sweater?
It can be any of those things. Because you can be sexy in anything, or nothing at all. THIS is BEAUTY.